Industry of the Ordinary had a mid-career survey, Sic Transit Gloria Mundi: Industry of the Ordinary, in the main exhibition hall on the 4th floor of the Chicago Cultural Center, 78 E. Washington Street, Chicago, from 17 August 2012 until 17 February 2013.

Aug. 17 – Sept. 25
Jim Zimpel: Angle
Exhibit Hall Platform, 4th floor
Zimpel's modified lake map/fish tank/sculpture provides participants with a fishing experience. Sign up for your chance to be an angler in the Exhibit Hall or online at www.jimzimpel.com.

Aug. 17 – Nov. 23
Max King Cap: Bossa Nova Mea Culpa
Elevators: NE & NW

Aug. 31, Noon
Lou Mallozzi: Outpost
66 E. Randolph St., glass canopy
Looking through a telescope, the artist will observe & describe the public from a 2nd floor location in this outdoor interactive sound installation.

Sept. 26 – Oct. 31
Morehshin Allahyari: The Romantic Self-Exiles
Exhibit Hall Platform, 4th floor
This multi-media installation presents Tehran through the experience of Allahyari's embodied self and that of her peers, and attests to their mobility within the city along with their inability to return after having left.

Sept. 28, 7pm
Industry of the Ordinary (IOTO): Transubstantiation (Eating Contest) and Time Capsule auction
Preston Bradley Hall
Contestants in this competition will consume cakes decorated with images of The Last Supper, vying for an IOTO-generated prize, after which IOTO will auction off the coordinates of a piece of treasure buried somewhere in the United States of America.

Oct. 15 – Jan. 1, 2013
Ed Marszewski: small ordinary shop
Michigan Ave. Galleries North
This space promotes companies and individuals who make locally manufactured products.

Oct. 5 – 13, Noon
Young Performers Series (click on each artist's names for documentation)
Randolph St. entrance, window showcase
24 hr. performances by student artists, start time noon each day.
Friday 10/5: Will Rigby
Saturday 10/6: Grace O'Brien
Sunday 10/7: Hanna Anderton
Monday 10/8: Melody Snyder
Tuesday 10/9: Robert Heishman & Brendan Meara
Wednesday 10/10: Shayna Cott
Thursday 10/11: EJ Hill & Collin Pressler
Friday 10/12: Caitlin Ryan

Oct. 26
IOTO: The Harvest
Begins at noon at 842 W. Lake Street in Chicago. Ends several hours later at
Exhibit Hall, 4th floor
IOTO will walk a refrigerated case with a butter sculpture of President Obama through the streets of Chicago, starting from the Meat Packing District and on to the Cultural Center, documenting its reception along the way.

Nov. 1 – Dec. 15, 5:30pm
Happy Collaborationists: 773
Exhibit Hall Platform, 4th floor, and around the building and the city
A series of presentations of new media, installation and performance by several emerging Chicago artists.
11/2: Erik Peterson: Square Dance
Daley Plaza, Clark and Washington Streets
11/9: Pete & Dyl: Pete & Dyl
Cultural Center Theater, GAR Rotunda
11/16: Jesus Mejia & Ruth: Circulatory
North Stairwell, Cultural Center
11/29: Jake Myers: Workout Video
Preston Bradley Hall
12/7: Jennifer Mills: The Dollar Store
Cultural Center Pedway, below ground level

Nov. 13, Noon & 6pm
Lou Mallozzi: Peers
1st Fl. North
Group recitation of the last words of Lee Harvey Oswald from time of Kennedy's assassination until Oswald's assassination.

Nov. 15, 6:30pm
One Out of Many: The Contemporary Portrait
Garland Room, 1st Fl. South
For this panel, portrait scholar Amy Mooney will moderate a panel with artists Kelli Connell, Myra Greene, and Cecil McDonald, who are all included in the IOTO Portrait Project.

Nov. 16 – Dec. 16
IOTO: Googling Ordinary
Hyde Park Art Center
5020 South Cornell Avenue, Chicago
Scrolling translations of I WANT TO BE ORDINARY will be projected on the facade.

Dec. 2 –16
IOTO: Celebrity and the Peculiar
Garland Room, 1st Fl. South
An installation of tents infused with celebrity scents.

Dec. 16 – Jan.19, 2013
Faheem Majeed: Planting & Maintaining a Perennial Garden III
Exhibit Hall Platform, 4th floor
Based on the 1930's New Bauhaus designed wood paneling of the South Side Community Art Center's Margaret Burroughs Gallery, Majeed's wood panels serve as a didactic tool that physically records the artists and community that utilize them, including a mural by legendary muralist William "Bill" Walker.

Jan. 20 2013 – Feb. 17 2013
Paige Cunningham/Anna Kunz: One Careless Gesture Away from Destruction
Exhibit Hall Platform, 4th floor
Performances, Jan. 20 & 27, 5:30pm, GAR Rotunda
This collaborative dance project draws on relationships between Voguing and Ballet. The modular visual units, by Anna Kunz, combine ordinary materials and elements from art and design of those eras in dance and culture. The dance performances are choreographed by Paige Cunningham.

Jan. 13 2013, 7:30pm
Intelligence in the Human-Machine, Duet for Cello and Brainwaves
Yates Gallery, 4th Floor
Co-created by Katinka Kleijn, cello, Daniel DeHaan, composer, and Ryan Ingebritsen, sound designer and composer.
Chicago Symphony Orchestra cellist Katinka Kleijn will perform a newly commissioned piece with her EEG monitoring brainwaves activating a response played on speakers
around the room.

Aug. 2012 – Feb. 2013
IOTO: Prayer for Chicago
Banners
Cultural Center, East facade



PUBLICATION
To accompany the exhibition at the Cultural Center, Industry of the Ordinary have produced a 200 page catalog that documents all of their projects to date, as well as including an essay by Eleanor Heartney and an interview with Duncan MacKenzie.
The catalog features a repository for inclusion of documentation of work produced throughout the run of the show.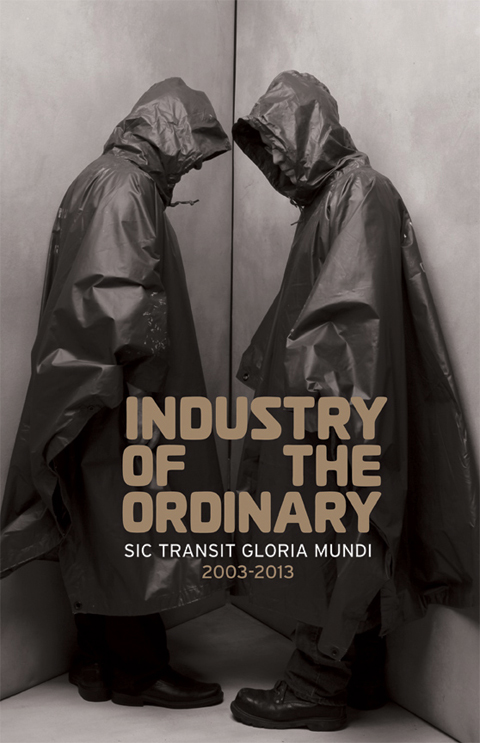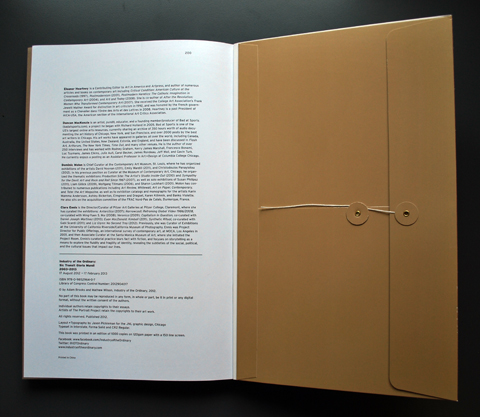 Publication design by Jason Pickleman, JNL Design, Chicago.
Cover image by Marc Hauser.
To purchase the catalog through Paypal, click below.